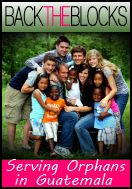 Are you wanting to follow Gods call to help the orphan? Here is an awesome way you can be part of His calling. By helping send this amazing family to Guatemala!!
They need 147 people to donate 25 dollars a month to their mission!!
They have already sold there house and belongings. And are ready to go! They just need your help. Visit their
site
to donate to an awesome cause!! You can also visit this
blog
for more info.
Guatemala has closed it's doors to U.S adoptions leaving so many orphans without any hope. Please pray about sending them some hope!